Hello from Chicago! It's been a good 4 months since my last post.
Today I am officially good to go! It's been exactly two weeks since my 2nd jab and I am now fully vaccinated — according to the experts at the CDC (at least for the next 6 months based on current data). I celebrated this momentous fact by doing what before covid would have been the utterly mundane… I signed up with a personal trainer for a session in a gym to try to get back some of the muscle tone lost over the past year of barely moving…. without hurting myself. It was GLORIOUS! I was smiling uncontrollably for two hours after the half hour session was over… and then topped it off by making an appointment with the dentist to get my teeth cleaned. The prosaic has never been so exciting.
Got my first covid shot (Pfizer) on March 18th at a local walgreens. Signing up for it was a bit of a challenge. I had registered with my city but a few weeks had passed and they had not emailed me back with a when, so I started looking around and discovered the city where I lived was actually WAY behind the local pharmacies in handing the stuff out…. so that even though my obesity and other issues qualified me with my state to be getting a jab, the city was still only trying to finish vaccinating the older than 65 year olds. A friend suggested bypassing the public efforts and to go private instead, and suggested signing up for it online at midnight, and then again at 6am with a pharmacy, saying "if you wait till 12:15 am or 6:15 am they'll be all gone."
First thing I did was I compiled a list of all the local pharmacies in my area (ones with outlets within a 1 hour commute) that were offering vaccinations — some of which were via grocery stores, and included the hyperlinks direct to their various sign up pages. This was to not waste time navigating through to those pages during the aforementioned 15 minute window of opportunity. For a few days I tried it repeatedly, but with no wins. Then on about the 3rd day I decided to try again at 8am… after a complete fail at both midnight and six, to discover the Walgreens pharmacy chain was offering a handful of appointments that were scattered around the state … 1 here, 3 there… And as I was refreshing the page trying to find a time and location would work for me including the possibility of having to drive an hour to and from the location (my body clock being pretty screwed up at the point, so that I was falling asleep at noon and waking at 9pm). Then, suddenly at about 8:15am, 22 appointments suddenly appeared at a walgreens not 15 minutes away from my home — I shit you not! I tried to grab the first appointment of the day but between clicks someone beat me to that one, and had to settle for the 2nd appointment — I checked back and by 8:30 almost all of the 22 openings had been filled.
A word to the wise, I now know having discussed it with the pharmacist that they arrive in the morning, find out what shipments they're due, and then leisurely upload appointments into the system, based on how many staffers they have who can give jabs and work schedules …  According to him this can happen anytime between 6am and about 8:45am… and I just got dead lucky having refreshed by screen at about 8:10, because once they go up they do tend to be snatched up within about 15 minutes to a half hour — to his experience.
Now here's a thing, Walgreens, the pharmacy chain I used told me the 2nd shot instead of being 3 weeks after the first, would be administered a whole month later. I called them up and asked, as it seemed wrong, and they said it was perfectly ok and that the 2nd shot could be done as late as 6 weeks after the first with no negative affects. So I waited. On my third week the American CDC (Center for Disease Control) bitch slapped the company and told them in no uncertain terms this was NOT ok. According to a New York times article that I read, they were doing it because it made it simpler for THEM to schedule the appointments using pre-existing software, and that it had nothing to do with supply and trying to get as many first shots into as many people as possible as quickly as possible (which was the explanation they gave me when I asked). Once this happened, I called them to see if I could get it rescheduled to the next few days they said NO, because there were no openings. SO my 2nd shot was a whole month after the first making the process from first shot to full immunization last tedious 6 weeks of waiting, for as we all know a watched clock runs slow.
But it's over now … at least for the next 6 months…  I have marked my calendar for mid September to remind myself just in case a booster is required at that time. Granted we still need to take the same precautions, but here's the thing. Till now any time I went out to a grocery store or some such (which I did rarely) it was stressful as all hell. Invariably some idiot was either not wearing a mask, or wearing it with their nose hanging out, or worse on their chin. Even among those with masks, a good third were NOT wearing effective ones. There was no shortage of people with bandanas over their faces… or wearing masks made of materials that did nothing, or worse actually broke up the moisture they breathed out into smaller droplets that made them MORE likely to stay suspended in the air, and for longer… which increased the risk of spreading the disease.
Having lived in Asia for a while, there they understand basic science and know you wear a mask because it is not only rude but inhumane to infect the people around you with whatever germs you might be carrying. As a result they will as a matter of course wear masks even if they feel ok, but know they've been in direct contact with someone who was sick. Masks in Asia are so common place that I many years ago picked up a few child sized ones while visiting Tokyo Disneyland. Americans however can't seem to grasp this concept, and think the mask they are wearing will protect them for other people who are not wearing masks. THIS meme which was making the rounds a while ago was probably the BEST explanation of how masks work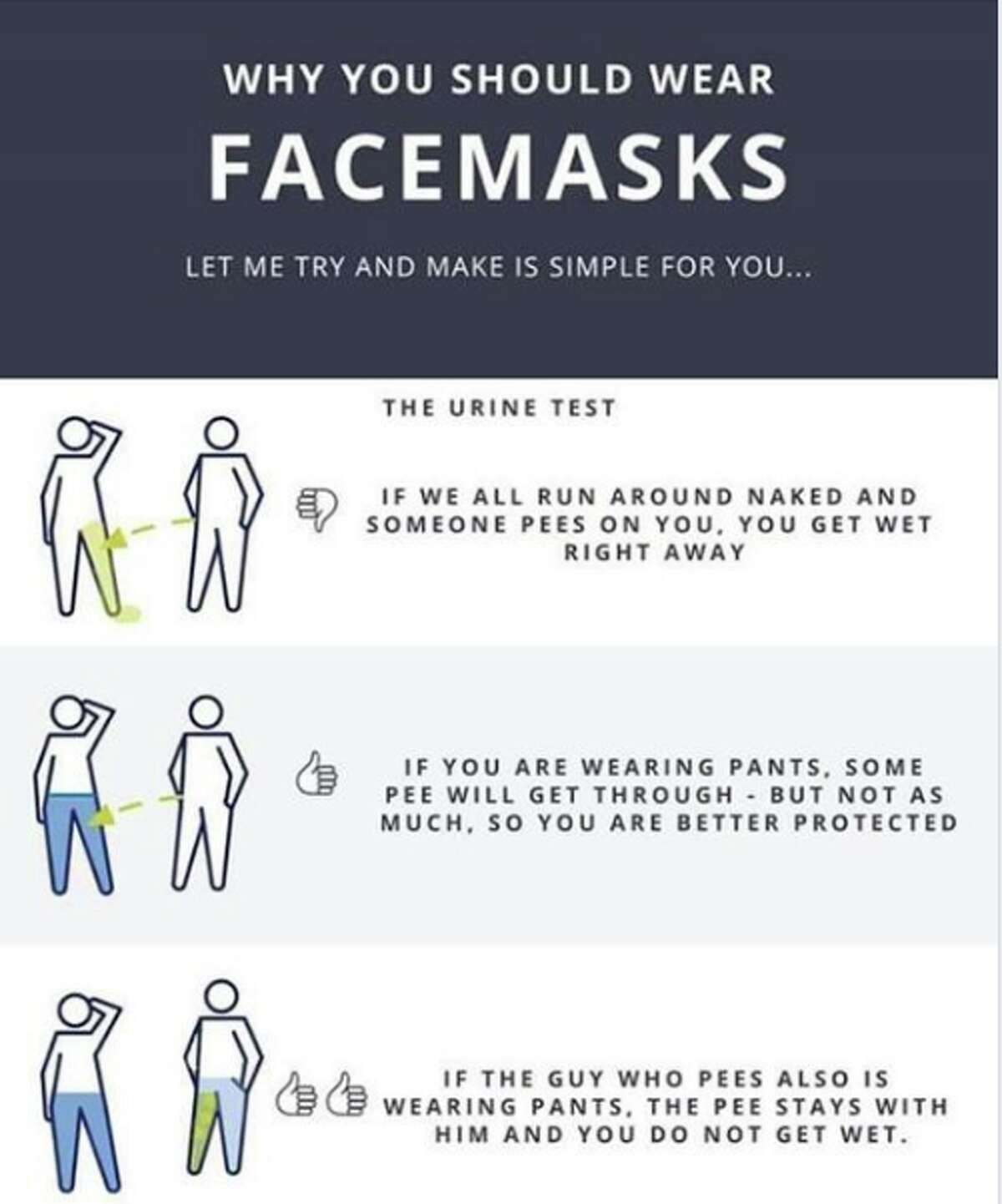 But here's the problem… Americans are not exactly known for their politeness, especially if it means inconveniencing themselves. They'll wear a mask to protect themselves, but they don't really care about others… and if they don't believe the mask will protect them (on top of not believing covid is a real thing) then they won't wear one, or if forced to will sometimes INTENTIONALLY wear something that obeys the letter of the law but is actually a fuck you to the people forcing them to wear a mask because they know full well its NOT the right kind of mask.
As such, leaving the house would FREAK ME OUT, and I would return from quick trips to the shop completely stressed. Today I was able to go to the gym, and afterwards to pick up food from Macdonalds, with NO stress because I now believe (fingers cross, no evil eye) that even if I should become infected with covid, the statistical likelihood of it killing me has dropped significantly. Where the Spanish flue we know in retrospect had a mortality rate of 2.7% of the population, with the highest mortality rates among children and young adults, we know that Covid kind of flips that… the mortality rate for covid is about healthy young people is only about 0.9% (but that varies with age, health conditions, and how well prepared and or equipped the local hospitals are to deal with being overwhelmed with patients). For someone my age with my health conditions… and my obesity… the death rate is about 10% … TEN PERCENT!!!!
And even among those who don't die, another 30% might end up as long haulers with permanent damage to their heart, lungs, etc., and most frighteningly … their BRAINS. The medical community has just started documenting a massive uptick in psychiatric issues among people who had mild cases that they were able to overcome without hospital assistance.
How scary is that!!!
So yes, going out today fully immunized knowing that my risk of any of that has dropped to about the likelihood of being hit by lightning … something I don't go around worrying about … and being able to actually ENJOY being around other people (even with the precautions of masks and social distancing — which is not unlike taking normal precautions during a thunderstorm) was just WONDERFUL!